Are you TimerTracked? It's FREE for professionals!
TimerTrac.com is in the business of tracking the performance of market timers and asset allocators. TimerTracking is a free service for professionals only. We do not track or list non-professionals.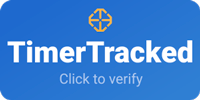 The "TimerTracked" medallion may be used by you on your web site or literature and will contain a special code that will allow any user to click through or navigate to our site and see your signal(s) or allocation model(s). This process is as close to "real-time" as you allow it to be since you decided how long any data publication delay will be with a minimum of 1 day.
To see a sample in action, click on the above image. The "TimerTracked" sample is a high yield bond signal. These graphs are only part of what investors will see. Note: Investors using your "TimerTracked" medallion will see only your information and will be able to graph only your signals or models. No other timing or allocation developer information will be shown.
The complete TimerTrac.com site is for investors. Investors anywhere in the world can access your timing signal history on our site. Investors will see the details you enter in to our database such as contact information, market comments, graphs of your models and signals, and other information about you and your firm. TimerTrac.com will become the primary source of information for investors looking for market timers and asset allocators.
TimerTrac gives you 3rd party verification of your system on a virtual real-time basis - for free! Signals or models will be delayed 1 to 30 days for your protection. You choose the delay period.
All you have to do is supply us with the on-going signals or trades as they occur (these are kept confidential until after the delay period you select). You may deliver these to us in a number of ways:
If you have any groups at Rydex or ProFunds we can track these automatically -- you do nothing, it's automatic!
Upon receiving your e-mail, we enter the trade information into our database, tracking both the date and time we received the signal or model change.
You may login to our site and enter the trade directly into our database. The signal will be automatically time-stamped. If you manage client accounts you can enter these trades after the market closes under certain conditions. (See Actual Trading below.)
You may call in your timing changes at any time to our signal recorder. Calls will be date and time stamped.
Postal mail works especially well for timers and asset allocators with long-term horizons or newsletter writers. (We do not evaluate newsletters.)
To use this option you must send us on-going duplicate account statements. Call for details. This is a very easy way for advisors who directly manage money.
Although we do not allow any "hypothetical" or "back-tested" signals or models; we do allow actual historical information when accompanied by a CPA attestation letter from an AICPA member. Call or email us for details.
To begin your free timer or allocation tracking, simply complete our web-based application process. You will be directed to a secure server, so all the information you provide will be protected by 128-bit encryption. We can track as many signals or models as you like.
Signal and model tracking can begin as soon as you sign up with us (after we have verified the information provided).
We expect TimerTrac to become the standard in market timing and asset allocation tracking. Don't be surprised if someone soon asks you, "Are you TimerTracked?"
---
Note: Please use at least Internet Explorer 5.0 or at least Netscape 6.0. Internet Explorer 5.5 or higher is recommended.